Dear Friends,
What would we do without those of you who believe in us? Those of you who give generously to support our work and champion our mission make a life-changing and transformational difference. The worlds of foster care, adoption, and kinship care are wrapped in complexities that few understand. Children whose parents cannot care for them feel confused, hurt, and maybe even angry. Those who have the heart to help through foster care, adoption, or caring for a relative's child are often confused, too. They face a world of unknowns, wondering what resources and support are available to them as they try to help young people heal. And birth parents who love their children are engulfed in personal crises that make caring for their kids extraordinarily challenging—even impossible at times.
The Coalition is the one neutral, supportive, compassionate information source in Wisconsin that offers high-quality information, support, and training. Thanks to you. Your kindness, compassion, and gifts make our work possible—and make healing possible for children and families.
As we begin 2022, we do so with grateful hearts for you. Thank you for supporting us, believing in us, and knowing that strong and resilient children and families will build and grow thriving communities. We are looking forward to a new year of transformation. We can't wait to keep you updated on what we accomplish together.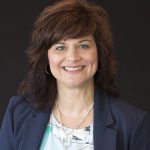 Thank you,
Oriana Carey
Chief Executive Officer