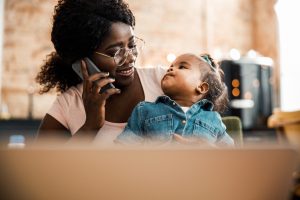 A call to the Coalition is often the first step for many looking to begin the adoption process. For the Resource Specialist taking the call, it's exciting to help launch what we know will be a fulfilling, life-changing journey. But then there are those calls that remind us that, for the adoptee, the journey is life-long and includes great loss.
Stephanie's call began with, "I know there's nothing you can do to help me, but …" She went on to explain she was born to a teen mom. Her childhood was a blur of being left with one stranger after another. Then, at age 7, she was finally adopted by "the most wonderful parents you could ever ask for." But, despite her parents giving her everything they could—a loving home, fun family vacations, an excellent education–she always felt something was missing. And that feeling was a source of guilt she had been carrying for decades.
She explained to the Resource Specialist, "I know I sound crazy and ungrateful, but I miss my birth mom. I need to at least try to find her." Stephanie then began sobbing. "Do you know this is the first time in my life I was able to say those words out loud? I miss my mom."
The Resource Specialist offered reassurance that, far from crazy or ungrateful, her feelings were perfectly normal and expected. And in fact, even adoptive parents have called the Coalition asking how they could help their children with their search. The two went on to discuss search strategies and resources for connecting with other adult adoptees. 
Although not our most common type of call, hopefully, it was a step toward something fulfilling and life-changing for Stephanie as well. Sometimes it's not about the Coalition's extensive library of webinars, online courses, tip sheets, or other resources that you so generously support. Sometimes it's just about connecting, one-on-one, with someone who hears and understands you. 
Your generous donations help to make those connections possible.