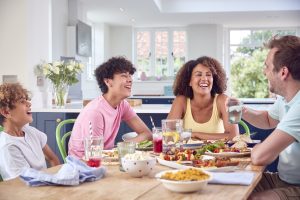 Backer Bulletin readers may recognize the "voice" of this issue's storyteller. You've read pieces from her in our two most recent issues. This third installment is the final one of her family's story—so far.
"My husband and I were looking out our kitchen window, watching our son walk through the garden. He has been with us for two years and always showed interest in the garden. This year he helped with planting the seeds, watering, and watching for vegetables ready for harvest. He seems so peaceful when he is working in the garden. When he got to the peas, he stopped. They were growing prolifically, and they were everywhere! We watched as he picked the peas off the vine and popped them right into his mouth—one by one and another and another. And we chuckled to ourselves. Those peas are delicious. And it really warmed our hearts to see him enjoying the peas–especially after all the work he put into the garden.
"A few minutes later, he came into the kitchen by us, and I said, 'How were the peas? I love peas right off the vine.' He quickly became very defensive and said, 'I didn't eat any peas.' My husband and I looked at each other, slightly shocked. 'Oh,' I said. 'I thought I saw you eating the peas. It would be perfectly fine if you did ever want to eat the peas. They are delicious.'
"Little things like this happen almost every day with him.
"About a year earlier, I had watched a webinar training from the Coalition for Children, Youth & Families called Lying as Trauma Driven Behavior. And I'm so glad I did. The webinar talks about why children who have experienced adversity in their childhood will often resort to "lying" to feel safe. The presenter gave several strategies to bring a child into connection with you if and when the child tells a lie to keep himself safe–just like my son did with the peas.
"Recently, my husband and I talked about how grateful we were for seeing that webinar before our son came to our family. We hadn't experienced this behavior with our other children. If the Coalition hadn't offered that training, and if we hadn't seen it, this small conversation about peas very well could have become an area of contention between us all.  There are so many other concerns with our son, and it is really nice that we can understand this one and hopefully build a connection with him when this happens until he feels safe enough to trust us."