A few years back, the Coalition was fortunate to connect with an inspiring man by the name of Gaelin Elmore. Gaelin has a fascinating story. He's a former foster youth who realized his dream of becoming a professional athlete in the NFL despite overwhelming adversity and trauma. To hear Gaelin tell his story, you find he speaks most passionately, not about his rise to the NFL, but about the places and spaces where he felt seen and valued. At the heart of Gaelin's powerful storytelling is family–the bonds created both by blood and belonging through good times and bad.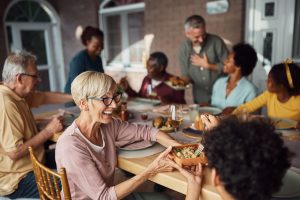 Sharing family stories can feel challenging when raising children and youth with whom we have a limited common history. The children's own stories may have pain or trauma attached, and sometimes, we feel it's best that they not remember.
It's easy to focus on creating new experiences and folding children into our own families and traditions.
It's important to remember that reminiscing and sharing family stories keeps children connected to their roots and reminds them of who they are and where they came from.
Gaelin Elmore would not be the confident and accomplished man he is today–a man who walked away from an NFL contract to work with youth with adverse backgrounds–had he not embraced all of his story. As you create new stories within your family, consider encouraging your children to share favorite stories or memories from past experiences. Make space to ask about, listen to, and honor all they want to share about where they came from and the people who are important to them. Not only does this help them develop self-esteem and a healthy identity, it creates the security that strengthens their bond with you.
Recommended Resources
Tip Sheets
Training From Champion Classrooms
Additional Resource