Each year, November is recognized as National Adoption Month. The Children's Bureau created this initiative to increase national awareness of adoption issues and bring attention to the need for adoptive families in the U.S. foster care system. This year's National Adoption Month theme is "Empowering Youth: Finding Points of Connection." In recent years, Adoption Month has focused on teens in foster care as they tend to wait longer for a "no matter what" family.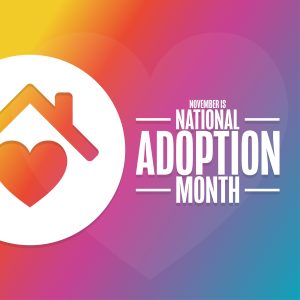 A Wisconsin adoptive parent of teenage siblings shared, "It took me a while to decide that we wanted to adopt older youth. But once I made that decision, I was all in. It turned out to be the best decision I ever made. My children came to me with developed personalities, interests, and a future we would write together.  Learning about their hopes, dreams, and desires, as well as their past, has been an honor. Not only do I get hugs, cuddles, and packing lunches, but I also get human beings who have opinions, strong personalities, and loads of laundry. Raising teens is always a rollercoaster, but it sure is fun!"
Teens need love, support, and a sense of belonging that families can provide. AdoptUSKids reached out to parents to share why they adopted teens:
Older teens want a family. And they are old enough to understand what that means.
The best thing about adopting our daughter when she was 17 was knowing that we didn't just choose her—she also chose us.
Adopting teens is tough; there's no easy way to put it. But watching them walk into adulthood is a marvelous reward.
Teens are able to vocalize their wants, needs, feelings, and fears.
Every child needs love.
If you want to learn more about adoption, please visit our website or call us. We'll show you how to get started!
Recommended Resources
From the Lending Library
Parenting at the Speed of Teens: Positive Tips on Everyday Issues, by Renie Howard
Two Moms in My Heart: Teens Write About the Adoption Option, by Youth Communication
Pieces of Me: Who do I Want to Be, by Robert L. Ballard
I Will Never Give Up, by Derek W. Clark
Training From Champion Classrooms